My Swan Song...
It was sung and I didn't know it when I heard it. Please enjoy the "Haunt Videos" link on the left side and enjoy the ride again. Life is Short and I need to taste it all.
                                   It's been my pleasure sharing it all with you,
                                                                                ~Northrad
My new Jimdo-Page
FOX Studios visit's Northrad's Yard Haunt
Each Annual Haunt can be watched from the "Haunt Videos" link on the left.
Season 2 and 3 "Video Logs" are up on the left links as well.
Fox Studio10 visits Northrad's Yard Haunt
DAPHNE, Ala. (WALA) - Halloween and every year he creates a haunted tour in his front yard and Nathan Hoffman is all about he doesn't break the bank doing it.

"I use things that weren't meant to be used for Halloween and I think that's the cheapest way to do something like this," Hoffman said.

He takes everyday items like PVC pipes, two liter bottles, wire coat hangers and pool noodles to create real life skeletons then dresses them from skull to toe.

"I use Goodwill. I go there to get costumes tear them up, scratch them up, bury them in the ground make them look nasty," said Hoffman.

He says the easiest way to create a quick creepy yard is to create your own tombstones and light up the yard with some color.

You can do so with styrofoam, paint and a box cutter then get a few fluorescent lights and the front yard is transformed into a graveyard.

If you want fencing, Hoffman says you can get it for free.

"I use a lot of wood pallets. If you go to an industrial complex or a dumpster they throw their old pallets on the side of the road so creepy fencing and cemetery is a classic Halloween set up."

Most of the items in Hoffman's yard are recycled. He says all you need are basic art and craft items like paint and hot glue to make haunting decorations.

To learn how Hoffman creates his creepy creatures and to see decorations from years past you can head to Hoffman's website or Youtube channel. 
By Candace Murphy
Photojournalist: Joah Norris
FOX10tv.com
©2000-2013 LIN Television Corp. All rights reserved.
Season 2 - Episode 3 is released.
   Featuring the new moving Coffin and sneak peeks of the Yeti...
Released - Episode 6 - The Skeleton Show
Relased Episode 6 - The Skeleton Show
Northrad's Hauntings - Episode 5 - Meet The Haunt Lizard, "Make and Break" Autopsy and Rock Facade
Released on YouTube...It's getting to be crunch time...more to come.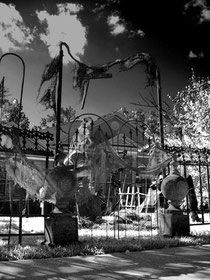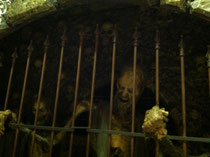 Northrad's Hauntings
has joined the
Vlogger Community
  After joining quite a few video chats with the Haunt Community at Shadow of Palms, I've been told I should start vlogging by some of my new friends. After hearing that, I realized that I had not been adding content to the Northrad's Tavern YouTube Channel http://www.youtube.com/user/northrad as frequently as I'd like so I started a vlog. I'm aiming for quarterly installments but already have three episodes which I guess can be called monthly at this point?
I'm really not much for calling attention to myself so it was strange I tend to be reserved in groups. Anyway, after the first vlog the feedback was so positive and folks began asking for more so next thing you know I have three. What has really helped is the ability of my phone to record video so much of it is impulsive recording which helps big time.
Next thing you know my fellow vloggers have been referencing my YouTube channel and now my YouTube channel subscribers have almost doubled. Now I don't know what I have gotton into because now more folks are expecting content and I'm starting to have fun with it.  Check it out...
2011 Home Haunt of the Year Winner's were announced !!!
and the winner is....
1st Place   Thornhill Woods
2nd Place: Darkwing Manor
3rd Place:  Haunt 31
 Check out these Haunts to see how it's done in the big leagues !
Winter Update
"The Home Haunters Association"

has narrowed down this year's finalists for

"Home Haunt of the Year"!
... Northrad's Hauntings made the cut for the Top 31 Haunts this year!
That put a smile on my face.
W
hy "31" as a cut down number? I have no idea? Last year there was a cut down to 15. Wow, the number of Haunts this year has grown like gangbusters and l
ooking at the number and quality of entries this year, I think the advancements of the home haunts especially, "charity" haunts now look downright professional grade. I mean they don't even look like homes now? I love the community involvements and assistance they are receiving. Actors and finiancial sponsorships really help out too. I would love to turn my Haunt to a charitable cause and do some good besides just entertaining the neighborhood.  I think I need some help like these haunts have before I can get there. That's something I can work on for the future maybe?
...notice sent out with Northrad's Hauntings listed on the offical site
Attention Members:
Round 1 of the judging is complete. The field of 74 have been narrowed
down to 31. Wow, what a task for the judges. Everyone did a great job
and I want to congratulate all entries. There are no losers in this bunch
of entries. Only winners in my mind.
Take a look at our main page for the list of 31 advancing to the next round.
We will begin Round 2 of the judging process to narrow down the field once
again. The winners will be selected from the group chosen in Round 2.
Stay tuned and thanks for your patience as the judges complete their work.
Kevin
2011 December (the "Recovery" or Halloween 2012 beginning :)
Home Haunting is still growing!
This year for consideration of "Home Haunt of the Year", there was over 74 entries representing all four corners of the US and Canada and near every state between. Again, there were the usual strong turnouts from the big-time Home Haunt hotspots. Spots like the Northeast, California, Midwest and Florida always have plenty of great haunts. Some Legendary Haunters returned and some new ones weighed in this year including last year's winners and even Chris Baker of "Hauntcast Radio"...Wow!
This year the 10 Haunt Industry Celebrity Judges include
Haunt Industry Leaders from all aspects of the Haunt industry.
-Haunted House Consultants
-"Hauntcon" Tradeshow and Convention
-Authors of "How to Haunt Your House"
-Mountain View Productions - "Mountain of Terror"
-"13th Gate" Haunted House - top rated haunt attraction in America by Haunt World
-Froggy's Fog -props specialists
-Midwest Haunters Convention
-DC Design Studios
-National Haunters Convention
...Excellent Group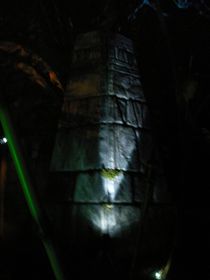 2011 Halloween
The Mayan Curse was unleashed ! http://www.youtube.com/user/northrad#p/u/0/OOfVL8lMYmg
"Northrad's Mayan Curse" Yard Haunt
The old Iron Gate entrance leads thru the Bayou Cemetery where eternal gas lampposts and dead trees drip with Spanish moss. Here, you'll find the Caretaker on patrol with his undead company. The Spirit Host of the cemetery will speak to guests and the Caretaker will interact with the Host and some of the dead to share a warning with visitors before they move on.
Northrad's Time Vortex returns. This time it's taking trespassers to the shores of some Mayan Ruins which just happen to have been recently raided by foolish Pirates. These Pirates are now cursed or Mayan dinner. Some Mayans can be seen observing you and the sounds of Mayan drums let you know more are coming and the fire is still burning. Moving On!
Beware of Gators at the swampy dock leading to a getaway pirate ship that has seen better days and is missing some of its crew thanks to the undead Mayans. One of the Pirates here will tell of the curse and warn guests, now that they have past, that they too have the Curse! In the distance, if you look carefully you may catch a glimpse of the beautiful siren ghost of the sea that appears and then disappears. She is waiting to for what's left of the cursed crew and the treasure they have hoisted to sink the last of the fleet.
Continuing, the Last Pirate speaks to guests of the curse crew and has a gunpowder surprise in the crates for Tots that think they has gotten past with nothing left to startle them. They have now reached the boarded-up Northrad's Tavern. Once tots reach the Tavern for their chocolate rewards they take another path out.
Lastly, it's over but don't tell the Werewolf in waiting- this is the Tots last good misdirection scare when this lycanthrope lets out his guttural growl from their blind spot coming out of the darkness into the light-just enough to keep them scurrying out the exit paths thus avoiding a bottleneck of kids congregating at the exit of the haunt.
In summary, this small atmospheric front yard Haunt, in its third year, makes careful use of lighting and includes lightning effects, laser, fog, water effects, forced perspectives and projections. I use 5 independent sound sources to keep it environmental and a couple of old computers, microcontrollers and servos. It's DIY crafted with a tight budget coupled with creative repurposing and a learn-as-I-go spirit.
The Northrad's Yard Haunt is mostly automated; motion triggered or utilizes timers because for the most part Northrad is a one-man army for the design and production. This way Mr. Northrad can give out candy, visit with the guests, enjoy watching their nervous fascinations and watch them enjoyment the atmosphere. I like to include at least one scare that's remote triggered so I can be selective and mindful of all ages that pass thru the haunt. Each year the theme is changed up to keep it fresh.
I hope you enjoyed it,
~Northrad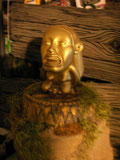 Ideas coming together...
Northrad's Mayan Cursed Pirates?
New progress Pictures in the Picture Gallery for 2011 

2011 October (mid-month updates)
Don't know how I missed this but on Hauntcast - Episode 26 -"New Year's Revolution",  "Northrad's Yard Haunt" gots props as a "Top 15 Yard Haunt" during the show. My favorite segment on Hauntcast is "Theatre of the Mind" so it was great little surprise to hear REVENANT mention the Haunt during his "News from Beyond" segment.  I was listening to the show on rerun yesterday while working in my "Haunt Studio"-aka 'messy garage' and caught the mention by surprise while barely listening while cleaning up...wait was that "my puny little yard haunt?" I just heard on the radio? It's the little things that make me smile.
If your not familar with Hauntcast and you love Halloween, you should listen to this show. It's Radio for Home Haunters and Halloween Fanatics. Check it out www.HAUNTCAST.com
Check out their Past Shows links...best of all it's free!
I'd also like to give another shoutout to popular YouTube Vlogger, Mr. Manning and his "Shadow of Palms Cemetary" Manning's Family Yard Haunt. I've been enjoying his vlogs and I subscribed this year. 
Mr Manning was kind enough to reference and flatter my channel and Yard Haunt online in his vlog. Please check out his Halloween themed Vlog at...
http://www.youtube.com/user/shadowofpalms#p/u/28/vfuL-hUbkjY
His channel offers an entertaining yet insightful look into the daily grind and thoughts of Creative Home Haunters and what we all go through the year preparing. Please support his vlog and subscribe.
~Northrad
2011 October
This Years Theme.... Northrad's Mayan Curse
New Addtions:
Upgraded ship mast
New Pirate Captain
Ship Dock
Aztec Guards
Mayan Temple
Mayan Huts
Expanded Cemetary Fence
Cemetary Lamp Posts
2 new Tombstones
Animated Crow
Idol Treasure
New Treasure Chest
New mini-spotlights
Jungle Vines
2011 August
I just got a request (see below) to fill-out a casting application for NBC-Universal. Seems they are doing a Home Haunter Documentary. Not sure if I want to, but it's nice to be asked.
Below is the request from Kevin to me who was contacted to reach out...
~Northrad
        Letter Excerpt---------------------------
"I was contacted by a production company that is producing a documentary
for NBC/Universal TV about people just like you....That is people who
build and create home haunts. They are really interested in focusing on
people who love to celebrate Halloween and keep the spririt alive (No pun
intended).

I was informed that the focus is likely to be on haunters in the north
eastern US, but don't dispair. If the installment is successful and they
have interest from other areas, they want to expand into the Central US,
Southern US, and the West Coast.

Time is of the essence. They will be leaving sunny california and heading
east to start meeting with potential haunters on or after Sept. 1st. So
if you are interested and want to be considered as part of the TV
documentary, then act today.

All you have to do is go to
http://www.homemadehaunt.com/casting-submission and fill out the short
questionaire.

Let's go and show off our creativity and have some fun sharing our passion
with the world.

Happy Haunting and Good Luck,

Kevin Wood
Home Haunters Association"
2011 Late Winter update
It's neat that the shelf life of this night has been such a success and it continues to take a life of its own and inspire others.
More very nice news...
I received a request to be included in the Midwest Haunters Convention  presentation to be used for this year's Convention Haunt Tours!
The more people that can enjoy it the better...I'm flattered that such an organization would admire my work and wish to include it so I'll be happy to oblige.  
~Northrad
http://midwesthauntersconvention.com/
<see below request>
From: Home Haunters Association
Sent: Wed, January 26, 2011 8:01:48 PM
Subject: Home Haunt of the Year Finalists

You are receiving this email because you were one of the 15 finalists in
the Home Haunters Association 2010 Haunt of the Year Contest.

One of our judges (Kathy Schieferstein) is a co-producer of The Midwest
Haunters Convention in Columbus Ohio.

Their convention this year will include a multi-day haunt tour to haunts
in the midwest area.  She wants to build a DVD including your haunt videos
so that she can play the videos on the 4 buses while they are in route.
This will give your haunt more exposure and visibility by a collection of
fellow home haunters and commercial haunters.

I wanted to get permission from each of you before I let her publish the
video.

If you would like to be included on the video, please respond back to this
email.

Thanks and congratulations,
Kevin
The Midwest Haunters Convention is for Haunted Attraction Producers, Actors, Artists and Home Haunters. aA 75+ vendor tradeshow with the latest in haunt offerings, and a place to network with others in the industry during our unique social activities.  We'll offer 1st class haunted attraction bus tours, costume parties and contests (the Bloody Mary Monster Makeup Wars competition, Body Art Fashion Show, Ms Midwest Scary Pageant & the IAHA Scariest Character Contest).  "Haunters" are always welcome here!
Last year well over 2,000 people attended the MHC and in 2011 we'll be celebrating our 8th year for the show.  The Hyatt Regency is once again our host hotel for our preconvention classes, welcome reception and after hour parties.  Our exhibitor trade show will be hosted at the attached Columbus Convention Center.  Over 60,000+ square foot
If you're involved in a Haunted Attraction or Halloween event in any way then the MHC is the place to be!  Make plans now to attend the most talked about convention in the industry.
2011 Early Spring
  More Video Coverage...
    Northrad's Hauntings was featured among others haunts from all over the country on the Home Haunters DVD Collection MMX. I'm happy to be in the company of the best of the best. There are some serious haunt legends featured in that collection like Pumpkinrot, Casa Fear, Davis Graveyard and on and on. Anyway, It's an honor to make to the collection with that company. I'm real happy about it.
The collection is available at...
http://www.hauntersvideoawards.com/videos.htm
---------------------------------------------------------------------------------
Congrats to the Top 3 Yard Haunts of the Year
1st Place: Darkwing Manor & Morguetorium Museum
  2nd Place: McKamey Manor
  3rd Place: Steve's Haunted Yard
  Amazing Stuff (check them out via http://homehauntersassociation.com/ ) I'm even more impressed because "free" actual yards of normal homes made the list! :) That gives me "inspiration" because I'm on a budget and operate solo...hehe-gives me hope in my 3rd year of trying to Yard Haunt
------------------------------------------------------------------------------------------
Very Very Surprising NEWS:
Northrad's Yard Haunt voted one of the Country's Top 15 Yard Haunts
  and a finalist for
"2010 Home Haunt of The Year"
http://homehauntersassociation.com/
Chosen as a Top 15 Finalist from over 60+ amazing haunts from US, Canada and Europe.
Included submissions from over 25 states and voted and judged by the below panel of 10 Haunt Industry Experts:
-     Leonard Pickel -   
   - Industry Leading Haunted House Consultant and Owner of the yearly Hauntcon Tradeshow and Convention.
- Tony Wohlgemuth - 
- President of Kersey Valley, Inc. and owner of SpookyWoods (www.spookywoods.com).  SpookyWoods is one of Haunt World's 2010 top 13 Haunts.
- Jimmy Hill -
- CEO of Mountain View Productions and owner of Mountain of Terror (www.mountainofterror.com).
- Billy Messina - 
 -  Netherworld Haunted House - Atlanta, GA.  Voted one of the best haunts of 2009 by Haunt World.
- Dwayne Sanburn - 
 -  13th Gate Haunted House - Baton Rouge, LA.  Recognized as one of the top haunts in America by Haunt World.
- Lynne & Shawn Mitchell - 
 -  Writers of the "How to Haunt Your House Series"
- Brent Ross - 
 -  DC Design Studios - DC Cemetery featured on Fear Net as one of America's Scariest.
- Adam Pogue - 
 -  Froggy's Fog - Voted World's Greatest Fog"
- Michael Bruner and Robert Kocher - 
  -  Owners of the National Haunters Convention
- Kathy Schieferstein - 
 -  Producer of the Midwest Haunters Convention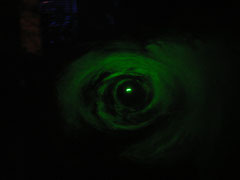 Halloween 2010 Comes to an End... Sad, but you can still see the Yard Haunt as if you were there! Check out the 'new' Video in the "Haunt Videos" section of the site
2010 July
Check out the new 2010 Prep Pictures addtions in the Picture Gallery and News sections.
    -Northrad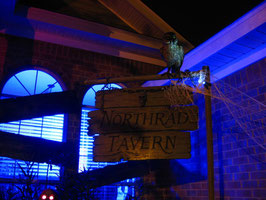 2010 Projects include:
Ground Breaking Coffin (shiatsu massager motor)
3 Scouting Desparados (servos and arduino microcontroller)
Mean Talking Hombre (audio servo driver board)
Cemetary Vortex (green laser)
Attacking Werewolf (wiper motor)
Motion triggered Power Source (powerstrip/floodlight hack)
Western Entrance
2010 October 31st      Halloween Day (yeah!)
 It's finally here...as my Mean Hombre Cowboy Skeleton said..."I'm finally outta this guy's garage"
 This years Theme...The Ole West!!
Great Time in Daphne, AL. Lots of folks wanted me to post something quick -so here it is without tweaking or editing. Sorry if it runs long. This was taken late after an exhausting night.
I forgot to film the Werewolf I worked so long on and by this time I had some of the lights and sounds turned off and some lights are turned on the shouldn't have been because it was late. The fog machines were dry so the Vortex looked way better earlier. I needed to film it before I took it down. Hope you enjoy it. It was the biggest year yet
Gosh a lot is lost in video. I'll try to put something better and edited together mixed with better pictures soon.
2010 October (1 week left to prep)
Added a few more pictures to the pictures section (Pictures->2010) Testing out my microcontroller powered Bluckies... err my Mean Hombres.
2010 October (begins)
WooHooo! I can start putting out the decorations! Of course, I'm limited in what I can put out but I put up the spooky fences and the new Western Entrance and a little tweaks here and there for the Cemetary. Check out the new progress pictures in the 2010 picture links on the left.  I went to a Haunt called Project X in Fairhope, AL and was disappointed. It was just screaming, banging and people jumping out of the dark. Barely any props and all people in makeup, a few masks. Just fake blood wiped everywhere on white bedsheets. I did get to drive past Southern Haunter's house to check out his progress. Looks good buddy. I didn't realize till this year I had someone in my town as into Halloween Yard Haunting as me. I can't wait.
2010 September
More and more prep pictures added to "Picture Gallery ->2010"
Rough Plans, New Entrance and Mean Hombre Progress pictures...
2010 July -
Check out the NEW Site additions -new 2010 prep pictures added and news entries